Butternut Squash Macaroni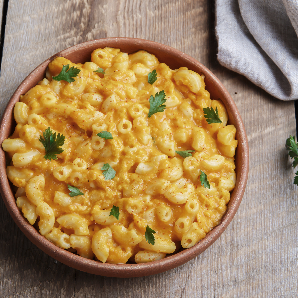 Ingredients
625 ml (2 1/2 cups) uncooked macaroni

30 ml (2 tbsp) extra virgin olive oil Olive & Olives 8 – Hojiblanca

1 onion, chopped

2 cloves garlic, pressed

2 cups milk

375 ml (1 1/2 cups) cups mashed butternut squash (prepared ahead of time - mash with Hojiblanca 8)

1 cube dehydrated chicken broth, grated (optional)

125 ml (1/2 cup) Parmigiano Reggiano cheese, grated

Cayenne pepper

Chives (optional)

Pepper (optional)
Preparation
1. In a large pot of boiling salted water, cook the macaroni until al dente.

2. Meanwhile, in a large skillet over medium heat, heat the extra virgin olive oil and add the onion. Cook 3 to 4 minutes, stirring occasionally, until transparent. Add the garlic and cook for 30 seconds. Reduce heat to medium-low, add the milk, the butternut squash purée, the chicken broth, the Parmigiano Reggiano cheese and the Cayenne pepper. Mix well with a whisk and cook until sauce is boiling. Mix in a blender. Put back into skillet and keep warm.

3. Drain the cooked macaroni and pour into the sauce. Mix well and adjust seasoning if necessary.

4. Serve on hot plates. Garnish with chives and pepper.

5. The sauce for this revisited classic dish is fine, creamy and well bounded. In addition, you do not have to add cream or prepare bechamel.

6. For an « all dressed » macaroni, add snails, diced bacon, shrimp, scallops or your favourite foods, or garnish with sautéed shiitake mushrooms.

7. Healthy choice: if you prefer to add homemade chicken broth, which has lower sodium content, replace the milk with the same amount of homemade broth. To retrieve the nutritional value of milk, you can dissolve skim milk powder in the broth and salt to taste.