Caramelized Balsamic Peaches and Grilled Brie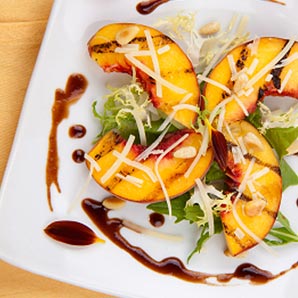 Ingredients
4 fresh peaches, pitted and cut into two pieces

45 ml (3 tbsp) brown sugar

30 ml (2 tbsp) balsamic vinegar

1 sprig of rosemary, chopped (leaves only)

1 whole camembert or brie, at room temperature
Preparation
1. In a bowl, combine the brown sugar, balsamic vinegar and rosemary. Thoroughly coat the sliced side of peaches.

2. Place on BBQ grill at low heat and cook for 3 to 4 minutes. Set aside to cool until serving.

3. When peaches are done, brush the grill well to clean. Put the whole cheese directly on the grill and close the BBQ cover. Turn off the burners and let the cheese heat for about 15 minutes. Using a large spatula, take the cheese off the grill and put it on a plate.

4. Serve with caramelized peaches.