Mini Scones with Black Olives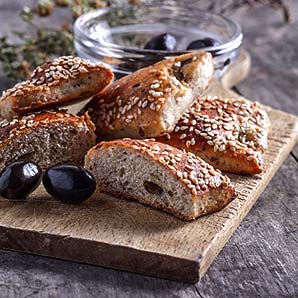 Ingredients
250 ml (1 cup) all-purpose flour

7 ml (1 1/2 tsp) baking powder

2 ml (1/2 tsp) salt

25 ml (3 tbsp) extra virgin olive oil (preferably light and fruity)

125 ml (1/2 cup) finely grated feta or emmental cheese

125 ml (1/2 cup) black olives, chopped

125 ml (1/2 cup) chopped red piquillo peppers (or roasted red peppers)

125 ml (1/2 cup) milk

1 egg, lightly beaten
Preparation
1. In medium bowl, stir together flour, baking powder and salt. Add extra virgin olive oil; mix well with fork. Add cheese, olives and piquillo peppers.

2. Blend in milk with fork. Dough will be very sticky.

3. Transfer dough to floured cutting board; divide into 2 balls. Knead each piece two or three times. With floured hands, flatten each to ¾-inch (2 cm) thick round, about 4 to 5 inches (10 to 12.5 cm) wide. With floured knife or pizza cutter, cut each round into 8 small triangles.

4. Transfer individually with small, floured spatula to parchment-lined baking sheet, leaving 1-inch (2.5 cm) space between. Brush tops with egg.

5. Bake in preheated 450°F (230°C) oven until golden, about 8 to 10 minutes. Serve hot or at room temperature.