O&O Pili-Pili mustard oven-roasted cauliflower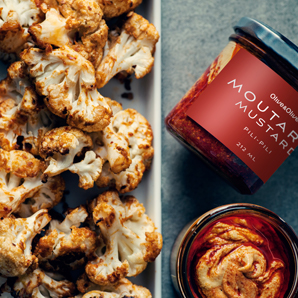 Preparation
1. Preheat oven to 200°C (400F) and place oven shelf in the middle.

2. In a bowl, mix the oil and the mustard. Add the pieces of cauliflower and mix so that all pieces are well coated.

3. Lay pieces on a baking sheet and sprinkle with fleur de sel.

4. Cook in the oven for 45-50 minutes and turn pieces from time to time until they are well grilled and cooked.

5. Serve hot or at room temperature.

6. Ideal to serve it with rice, chicken, fish or as a side dish.