Roasted Root Vegetables with Reduction of Grape Must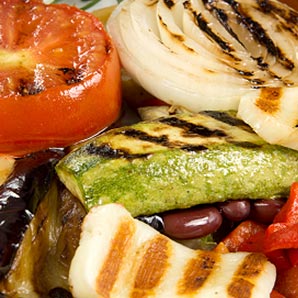 Ingredients
30 ml (2 tbs) reduction of grape must – Feriane's Arrope

60 ml (¼ cup) extra virgin olive oil

450 g (1lb) parsnips, peeled and cut lengthwise into 2 pieces or cut into 4 pieces widthwise

450 g (1lb) peeled carrots [Do not remove the stem with the leaves (keep about 2 cm)]

150 g (1/3 lb) baby turnips, peeled (Leave them whole)

4 french shallots, peeled and cut into 2 pieces

1 head of garlic with the peel, cloves separated

8 sprigs fresh thyme
Preparation
1. In a large bowl, combine reduction of grape must and extra virgin olive oil.

2. Add parsnips, carrots, turnips, shallots, garlic and thyme. Toss to coat.

3. On a baking sheet lined with parchment paper, place the mixture of root vegetables.

4. Season with salt and pepper and place in the oven for about 30 minutes at 375°F or until vegetables are tender.