Spinach and Burrata Bruschetta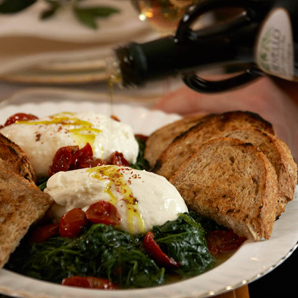 Ingredients
900 g (2 lb) fresh baby spinach

60 ml (1/4 tasse) extra virgin olive oil

2 garlic cloves, halved

1 Pinch ground chili pepper

Salt, to taste

8 slices country bread, ½-inch (1 cm) thick

45 ml (3 tbsp) extra virgin olive oil

1 whole garlic clove

400 g (14 oz) burrata cheese (or mozzarella di bufala), torn into 8 pieces

80 ml (1/3 tasse) semi-dried cherry tomatoes

Finest quality extra virgin olive oil

Freshly ground red peppercorns, to taste
Preparation
1. Preheat oven to 375°F (190°C).

2. In a large pot of boiling salted water, cook spinach uncovered, stirring once or twice, until tender, 2 to 3 minutes. Reserve ½ cup (125 ml) of cooking water, then drain spinach in a colander and rinse immediately under cold running water to cool and refresh. Drain again, squeezing with your hands to remove water from spinach.

3. In a medium-size skillet, heat extra virgin olive oil over medium heat. Sauté halved garlic cloves until golden, then discard; add spinach and chili pepper to oil. Toss to combine and cook 2 minutes to heat through. (If spinach seems too dry, add a little reserved cooking water.) Season with salt and set aside.

4. Brush both sides of bread with extra virgin olive oil. Toast on a baking sheet in oven for 8 to 10 minutes (or grill on the stovetop on a hot cast-iron griddle pan). Rub one side of each slice of bread with the whole garlic clove.

5. Arrange toasted bread slices on a large platter. Divide spinach evenly among them. Top each slice with burrata, then semi-dried cherry tomatoes. Drizzle generously with extra virgin olive oil and a grinding of red peppercorns.