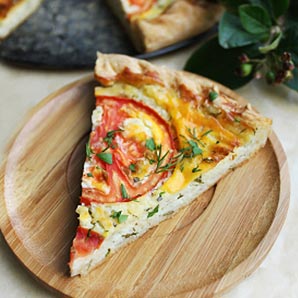 Ingredients
60 ml (1/4 cup) butter

60 ml (1/4 cup) all-purpose flour

500 ml (2 cups) milk

10 ml (2 tsp) salt

250 ml (1 cup) smoked gouda

3 ml (1/2 tsp) ground nutmeg

1 green zucchini

1/4 butternut squash, peeled and seeded

1 carrot

1/2 sweet potato

1/2 red onion, sliced

125 ml (1/2 cup) chopped sun dried tomatoes

10 ml (2 tsp) roasted garlic

10 ml (2 tsp) sherry vinegar

10 ml (2 tsp) herbs de Provence

10 ml (2 tsp) ground black pepper
Preparation
1. In a medium saucepan, heat the butter over medium-low heat until melted. Add the flour and stir until smooth. Over medium heat, cook until the mixture turns a light, golden sandy color, about 6 to 7 minutes.

2. Meanwhile, heat the milk in a separate pan until just about to boil. Add the hot milk to the butter mixture 1 cup at a time, whisking continuously until very smooth. Bring to a boil. Cook 10 minutes, stirring constantly, then remove from heat. Season with salt and nutmeg, stir in the gouda and set aside until ready to use.

3. Leaving the edible skins on all the vegetables (except for the butternut squash), wash the vegetables, and dry them off. Slice the vegetables paper thin, preferably with a mandolin or with a knife. If you can't get paper thin slices, that's fine.

4. Toss the vegetables with the herbs, seasonings, garlic, tomatoes and sherry vinegar. Now we're ready to build our tart.

5. Preheat the oven to 400°F

6. Spread about 1½ cups of the bechamel across the bottom of the tart shell that is still in the tart pan.

7. Arrange the vegetables across the top of the sauce. Make sure to squeeze out any liquid the vegetables may have started to release. When spreading out the vegetables be sure to cover the edges of the exposed tart shell to ensure the tart doesn't burn.

8. Place the tart into the oven and allow it to bake until the vegetables are soft and starting to crisp on the edges. Remove from the oven and allow the tart to rest at least 10 minutes before cutting. Serve with a simple green salad and you have a healthy vegetarian friendly dinner!