Tomatoes Stuffed with Tuna Confit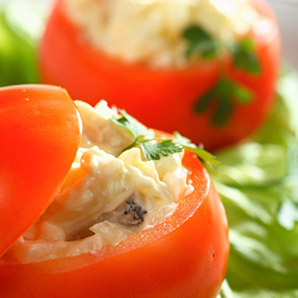 Ingredients
500 g tuna (yellow fin or other)

1 L (4 cup) extra virgin olive oil

1 branch of thyme

4 garlic cloves

8 tomatoes

1 bunch of basil

150 ml (2/3 cup) white balsamic vinegar

15 ml (1 tbsp) mustard

1 Slices of bread

Salt and Pepper
Preparation
1. Heat the oil with thyme and 2 garlic cloves. Add tuna and marinate for 30 to 40 minutes. While the tuna is marinating, lightly mark the underside of each tomato with a cross.

2. Drop the tomatoes in a pot of boiling water for 15 to 20 seconds.

3. Remove from boiling water and plunge immediately in a bowl of iced water to stop the cooking process.

4. Peel the skin of tomatoes from the bottom up while keeping the skin attached to the stalk. Slice the top off the tomatoes and fry them with the skin attached (to use as decoration).

5. Scoop out the seeds and reserve. Put seeds and juice in thermomix. Strain through a chinois and set aside.

6. To make the dressing, add mustard and vinegar, blend in the reserved tomato juice and the cooled off olive oil that was used for marinating the fish.

7. In a bowl, flake the tuna, add the dressing to tomatoes, and mix in the finely chopped basil. Add salt and pepper. Stuff the tomatoes with tuna mixture, season with salt and pepper, then drizzle with olive oil. Cover the tomatoes with the fried tomato's skin.

8. Fry a slice of bread in oil. Place a stuffed tomato on top of it and serve.