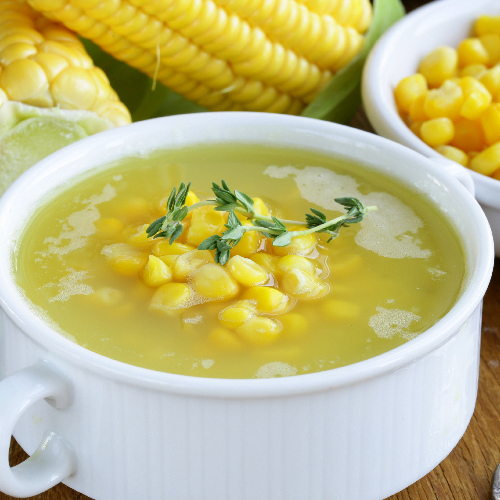 Ingredients
4 cups (500 ml) Grilled Corn (use steamed corn if you cannot grill)

4 cups (500 ml) unsweetened coconut milk

1 ½ cups (375 ml) vegetable broth

3 sprigs of thyme

3 tablespoons of extra virgin olive oil

2 cloves garlic, minced

1 medium yellow onion, diced

2 celery stalks, diced

1 teaspoon salt

1 teaspoon freshly ground pepper

1 tablespoon chopped fresh chives

1 tablespoon chopped fresh chervil
Preparation
1. Preheat BBQ grill. Peel and rinse the corn. Grill the corn over-high heat, lightly charring the outside. It should take from 8 to 10 minutes.

2. Let the corn cool slightly and then cut off the kernels. You should have 4 cups of grilled kernels.

3. In a medium saucepan, combine the coconut milk, vegetable broth, thyme and bring to simmer. Add the corn kernels and let simmer for approximately 5 minutes.

4. In a large soup pot, heat the olive oil, add the minced garlic, onion, celery, ½ teaspoon of salt, ½ teaspoon of the black pepper.

5. Cook for 5 minutes or until soft but not brown. Add the coconut milk-corn mixture.

6. Bring the soup to a low simmer and cook for 10 minutes. Season with the remaining ½ teaspoon of salt and ½ teaspoon of pepper.

7. Add the chives and chervil and stir. Serve warm.

8. Drizzle a filet of EVOO over every serving.