Layered Grilled Vegetables with Warm Goat Cheese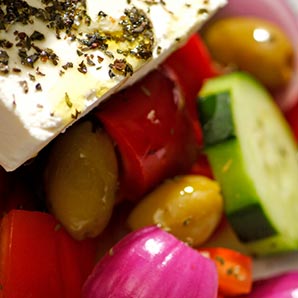 Ingredients
1 red pepper, cut into four pieces

1 yellow pepper, cut into four pieces

1 zucchini, cut into thin slices

1 eggplant, sliced

1 red onion, sliced

1 paillot of goat cheese cut into eight pieces

Extra virgin olive oil, to taste

Balsamic vinegar, to taste

Salt and pepper, to taste
Preparation
1. Prepare all the vegetables and marinate them 20 minutes in extra virgin olive oil, balsamic vinegar, salt and pepper.

2. Place the chopped vegetables on a preheated BBQ grill and grill each side for about 2 minutes. Keep warm.

3. On a baking sheet covered with parchment paper, place 4 slices of eggplant. Add a layer of red peppers, zucchini and onions. Repeat alternating layers of vegetables. Before placing the last layer of vegetables, garnish with cheese. Insert a bamboo skewer vertically to avoid losing shape during cooking.

4. Bake at 400°F for about 10 minutes or until everything is hot and golden. Garnish with a drizzle of extra virgin olive oil and a dash of balsamic vinegar.