Crab Txangurro Pie with Absinthe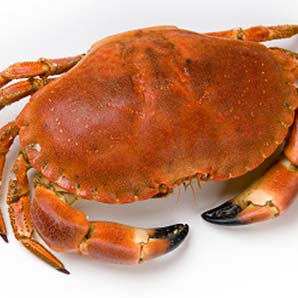 Ingredients
400 g crab

100 ml extra virgin olive oil

1 white part of the leek

1 roll of phyllo dough

200 g butter

50 ml absinthe

Fresh tomatoes

Thyme

Laurel

Garlic, chopped

Salt

Freshly ground pepper
Preparation
1. Slice the onion and white part of the leek.

2. Remove seeds from tomatoes and dice.

3. Heat extra virgin olive oil in a sauté pan.

4. Add onions, chopped garlic, thyme, bay leaf, freshly ground pepper and the leek. Cook until the onion is somewhat translucent.

5. Add the crab pieces.

6. Mix gently, add absinthe and flambé.

7. Remove from heat and add diced tomatoes.

8. Adjust seasoning. Allow to cool. This is how txangurro (from Basque regions in France) is made.

9. Melt butter slowly.

10. Cut phyllo dough in even strips, spread butter on each strip overlapping 2 layers in a criss-cross fashion.

11. Then add 3 strips of phyllo overlapping them in a criss-cross fashion.

12. Place txangurro mix in the centre and wrap phyllo strips loosely.

13. Brush a small amount of butter on the dough to help with browning when cooking.

14. Bake in a preheated oven at 180°C for 10 minutes (check color).

15. When the txangurro is baked, place them on plates and use your imagination to decorate.