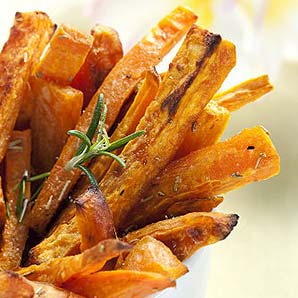 Ingredients
Sweet Potatoes

Extra virgin olive oil
Preparation
1. Preheat oven to 425°F.

2. Cut sweet potatoes into wedges.

3. Spread the potatoes in an even layer on a baking sheet.

4. Brush all pieces with filtered extra virgin olive oil.

5. Bake for about 25 minutes until potatoes are golden brown.

6. Sprinkle with fleur de sel.

7. Delicious with dips or homemade mayonnaise!