Veal Kidney with Chorizo and Xeres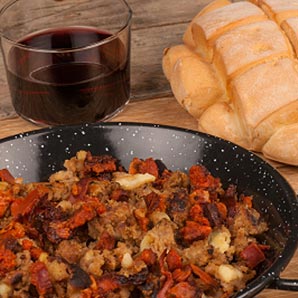 Ingredients
350 g veal kidney

15 ml (1 tbsp) extra virgin olive oil

1 onion sliced in half and diced finely

125 g chorizo sliced thinly

100 ml dry xeres

5 ml (1 tsp) hot mustard

1 garlic clove, chopped finely

15 ml (1 tbsp) parsley, chopped finely

Country bread to serve
Preparation
1. Remove the membrane around the kidney. With a good knife, remove fatty tissue and veins. Chop veal kidney in small pieces.

2. Heat olive oil in a pan, and sauté onion for 1 minute. Add the chorizo and kidneys. Sauté for 5 minutes before adding the wine.

3. Continue cooking for 3 minutes, add the mustard, garlic and parsley. Stir well together until homogenous mixture has formed.

4. Keep cooking for another minute. Serve hot with country bread.