Green Pea Purée with Chorizo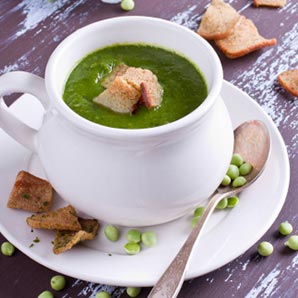 Ingredients
1/2 cube of beef bouillon

300 g small green peas, fresh or frozen

75 g chorizo

1 piece of stale bread (day old)

20 g serrano ham

2 tsp pine nuts, grilled

100 ml crème fraîche
Preparation
1. In a pot, dissolve a cube of bouillon in 300 ml of hot water. When the water reached a boil, add the small green peas and let them cook for 4 minutes.

2. Cut the chorizo and bread into small cubes. Sauté chorizo in a hot pan stirring constantly. Once the oil has rendered, add the bread. Cook for 2 minutes until bread and chorizo are crispy.

3. Drain peas, saving some liquid for cooking. In a food processor, place peas with serrano ham, pines nuts and approximately 4 tablespoons of reserved cooking liquid. Mix to get a nice purée. Add a small amount of cooking liquid if it seems too thick. Salt and pepper to taste.

4. Pour the purée into small glasses. Add a spoon of crème fraîche to each portion and decorate with fried croutons and diced chorizo. Serve immediately.