Padron Peppers Stuffed with Goat Cheese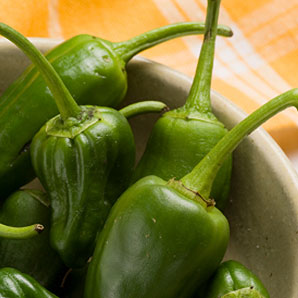 Ingredients
18 Padron peppers

80 g dry goat cheese

15 ml (1 tbsp) liquid honey

30 ml (2 tbsp) fresh mint finely chopped
Preparation
1. Preheat oven to 220°C. Slice the peppers in half and remove seeds. Place them in a single layer on a parchement covered baking sheet.

2. Crush goat cheese with honey and mint. Add salt and pepper to taste. Stuff each pepper half with approximately 1 teaspoon of cheese loosely packed. Cook for 5 minutes. Serve hot.

3. If you can't find Padron peppers, use sweet mini peppers or canned piquillo peppers.

4. Decorate with parsley.