Pimenton Roasted Chickpeas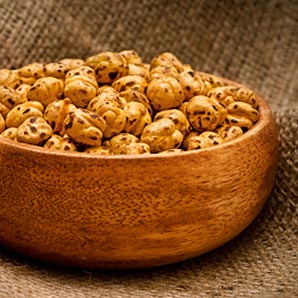 Ingredients
1 can chickpeas (garbanzo beans), rinsed and well-drained

15 ml (1 tbsp) extra virgin olive oil

10 ml (2 tsp) lemon juice

7 ml (1 1/2 tsp) pimenton (smoked paprika)

3 ml (3/4 tsp) sea salt

1 ml (1/8 tsp) Cayenne pepper
Preparation
1. Preheat oven to 425°F.

2. In a large bowl, gently toss all ingredients together.

3. Transfer to a parchment lined baking sheet and spread out in a single layer.

4. Bake, tossing occasionally until dry and crisp, about 40 minutes.

5. Cool slightly and serve.

6. TIP: These are best when freshly made but save any leftovers in an air tight container to use in salads as croutons substitutes.